ftm

Radio Page - week ending February 2, 2018




Public broadcasters are, as seen in many settings, inextricably intertwined with national authorities. Naturally, politicians with their own futures uncertain find purpose in change. And changes are most visible at public broadcasters. But the gamesmanship rarely achieves more than distraction.
Radio listening in Austria is slipping - slowly, but surely. Q4 2017 audience estimates from GfK Radio Test show overall daily reach Monday through Sunday dropping year on year to 76.4% from 76.7% among persons 10 year and older, 73.8% from 75.1% among persons 14 to 49 years. Five years ago daily reach in both demographic groups was over 80%.
Aggregate daily reach for public broadcaster ORF channels dropped to 61.2% from 61.5% one year on. Main national news and culture channel Ö1 rose to 8.4% daily reach from 8.1% and long dominant pop music channel Ö3 was slightly up to 33.3%. Alternative music and lifestyle channel FM4 dropped to 3.3% daily reach from 3.6%. Rumors abound, reported Der Standard (January 31), that FM4 could be shuttered for failing to "fulfil its educational mission." Five of the nine ORF regional channels were down, some more than others, two were flat and two were up. (See more about media in Austria here)
Daily reach listening for private-sector radio broadcasters also fell, on aggregate, to 28.2% from 29.1%. The sole national private channel Kronehit was off; 10.9% daily reach from 11.7% year on year. Radio Energy and Life Radio were up slightly. Radio Arabella was slightly lower.
Radio audience estimates came under intense scrutiny in 2016 after manual manipulation of results was discovered. The internal investigation revealed audience results for some channels had been changed over a four-year period by staff members who thought the data must have been incorrect. The GfK Austria managing director was demoted.
A new radio channel took to the airwaves in Italy this week led by long-time radio operator Alberto Hazan. RMC Sport Network is, obvious from the name, all sports and, being in Italy, mostly football. It's a joint venture of RMC Italia, e-commerce company Triboo and football fan website TuttoMercatoWeb. The channel operates on eleven FM frequencies in major cities, mostly appropriated from RMC2, plus supplemental digital coverage.
"In my life I have started several radio channels," said Sr Hazan, quoted by primaonline.in (January 29), "and have or have had great success, but they were all music. I have now engaged this new radio project, like several abroad, with a sports news-talk format. It will be a beautiful and uplifting adventure." (See more about sports and media here)
Two years ago Gruppo Finelco, Sr Hazan being president and shareholder, sold Radio 105 and Virgin Radio Italia to Mediaset, which then formed Radio Mediaset. Gruppo Finelco was dissolved into RMC Italia, Sr Hazan as principal, operating national channels Radio Monte Carlo and RMC2. (See more about media in Italy here)
RMC Sport will be competing with Radio Sportiva, privately-owned all-sports radio channel founded in 2010.
Recently added radio audience figures and resources
---
Also see
ftm

Knowledge
Europe's Radio - Southern Europe
Radio broadcasting in southern Europe ranges from highly developed to developing highly. Italian, Spanish and Portuguese radio is unique, creative and very popular. Radio in Croatia, Serbia and Greece has had ups and downs. The ftm Knowledge file includes Resources. 126 pages PDF (June 2015)
Europe's Radio - Western Europe
Opportunity meets tradition in Western Europe's radio broadcasting. Change has come fast and yet oh, so slowly. This ftm Knowledge file contains material and resources on public and private radio broadcasting in Austria, Belgium, France, Germany, Liechtenstein, Netherlands and Switzerland. 244 pages. Resources. PDF (September 2013)
Europe's Radio – Eastern Europe
Eastern Europe's radio writes new rules. In fact, most everything about radio in this region is new... and changes often. The ftm Knowledge file reports on Belarus, Bulgaria, Czech Republic, Hungary, Moldova, Poland, Romania, Russia, Slovakia and Ukraine. 159 pages PDF (April 2013)
Europe's Radio – Northern Europe
Northern Europe's radio has a very digital sound. And change is in the air. Economic challenges abound for both public and commercial broadcasters. The ftm Knowledge file reports on Denmark, Estonia, Finland, Iceland, Ireland, Latvia, Lithuania, Norway, Sweden and the UK. 144 pages PDF includes Resources (November 2012)
Digital Radio - Possibilities and Probabilities
Digital radio has many platforms. From broadcast platforms to internet radio and rapidly emerging smartphone platforms, listeners and broadcasters have choices galore and decisions to make. Some regulators have made up their minds, others not, some hedging their bets. This ftm Knowledge file details the possibilities for digital broadcasting and the probabilities for success. Includes Resources 149 pages PDF (August 2012)
Become an
ftm

Individual or Corporate Member and receive Knowledge files at no charge. JOIN HERE!

ftm Knowledge files are available to Members at no additional charge.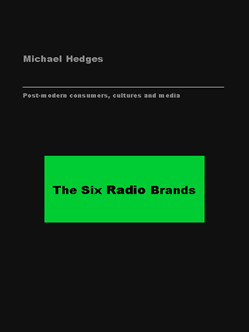 The Six Radio Brands is about the uniquely European development of radio brands. Competition among broadcasters - and certainly between the public and commercial sectors - gives radio in Europe a rich dynamic. As consumers become more media-literate and demand more attachment broadcasters find target markets illusive.
Regulators, advertisers and broadcasters take turns trying to influence radio brands. Culture and technology makes an impact. More and more, the greatest influence comes from consumers.
The Six Radio Brands describes advantages and pit-falls of brand strategies, with illustrations from current radio practice.
100 pages. 2004
Available at no charge to ftm Members, €49 for others. Email for more information