ftm

Radio Page - week ending February 3, 2017

The September-December Médiamétrie radio audience estimates for greater Paris (Il-de-France), released January 26, presented few surprises. Largely, trends seen in the national radio audience estimates for the same period, released a week earlier, were confirmed. National news and talk channels were booted up by a basketful of national and international events, pushing lower several - but not all - traditional national music channels.

Public broadcaster main news and talk channel France Inter placed first in the rankings with 13.5% market share, up from 12.4% market share year on year. With a few tweeks in methodology Médiamétrie discourages year on year comparisons. That noted, France Inter is certainly in ascendance. Long dominant RTL ranked second with 12.6% market share, down from 12.9%.

Talk-intensive Europe 1 remained in third spot, falling to 8.4% market share from 8.9% market share one year on. Talk-variety RMC (some sports, some business, some news, some other) held 4th place, 7.9% market share, up from 7.3% market share. Public all-news channel France Info placed 5th, again, with 5.2% market share, up from 4.6% market share. (See greater Paris radio audience trend chart here)

"France Inter is in the image of Radio France: an eclectic, demanding radio and, at the same time, able to bring together a large audience," said Radio France president Mathieu Gallet, taking a victory lap, quoted by Les Echos (January 29). "France Info is challenging the global media. Social networks are part of our response. This means that (public broadcasting), which is presented as dusty and "Mamouthesque" (a dinosaur), is anything but that: we are able to innovate."

With a much darker tone, Lagardère spokesperson Ramzi Khiroun called the results for Europe 1 "obviously a failure," quoted by Le Monde (January 30). Lagardère general partner and principal owner Arnaud Lagardère, said the spokesperson, "deplores that the listeners… turn their backs on Europe 1." He also refuted long simmering speculation that Europe 1 and other radio broadcasting assets are for sale.

The rest of the news from the greater Paris September-December audience estimates is just strange. NRJ held 6th place, down very slightly to 4.4% market share. Fun Radio rebounded to 2.9% market share from 2.0% year on year, possibly blowback publicity from the Fungate news coverage. Urban channel Skyrock continues to drop, strangely, in most urban Paris. Generations and Tropiques FM were the top rated local stations, both up.
---
Radio Page week ending January 27, 2017
radio in Switzerland, Mediapulse, SFR, RTS, Rete, Energy Zurich, Rouge FM, Radio3i, radio in Denmark, radio audience, DR, Nova, Radio24syv
Radio Page week ending January 20, 2017
radio in France, Mediametrie, radio audience, RTL, Europe 1, RMC, NRJ, Fun Radio, radio in Romania, radio audience, SRR, Romania Actualitati, Radio ZU, Radio 21, Virgin Radio, Digi FM, Radio Guerrilla
Radio Page week ending January 13, 2017
radio in Norway, DAB, DAB+, FM shutoff, NRK, radio in Gambia, radio in Africa, Paradise FM, Teranga FM, Hilltop FM, Afri Radio, radio in Bulgaria, music rights, public broadcasting, BNR
Radio Page week ending December 23, 2016
radio in France, Fungate, Fun Radio, RTL France, NRJ Group
Radio Page week ending December 16, 2016
radio in Spain, EGM, AIMC, radio audience, Cadena SER, Onda Cero, Cadena Cope, Los 40 Principales, radio in Portugal, Record FM, Global Difusion, Kiss FM
Radio Page week ending December 9, 2016
radio in Switzerland, Ringier, DAB+, Spotify, SFR 3, radio in Norway, digital radio, DAB, digital transition
Radio Page week ending December 2, 2016
radio in Germany, ARD, mobile apps, VPRT
Recently added radio audience figures and resources
---
Also see
ftm

Knowledge
Europe's Radio - Southern Europe
Radio broadcasting in southern Europe ranges from highly developed to developing highly. Italian, Spanish and Portuguese radio is unique, creative and very popular. Radio in Croatia, Serbia and Greece has had ups and downs. The ftm Knowledge file includes Resources. 126 pages PDF (June 2015)
Europe's Radio - Western Europe
Opportunity meets tradition in Western Europe's radio broadcasting. Change has come fast and yet oh, so slowly. This ftm Knowledge file contains material and resources on public and private radio broadcasting in Austria, Belgium, France, Germany, Liechtenstein, Netherlands and Switzerland. 244 pages. Resources. PDF (September 2013)
Europe's Radio – Eastern Europe
Eastern Europe's radio writes new rules. In fact, most everything about radio in this region is new... and changes often. The ftm Knowledge file reports on Belarus, Bulgaria, Czech Republic, Hungary, Moldova, Poland, Romania, Russia, Slovakia and Ukraine. 159 pages PDF (April 2013)
Europe's Radio – Northern Europe
Northern Europe's radio has a very digital sound. And change is in the air. Economic challenges abound for both public and commercial broadcasters. The ftm Knowledge file reports on Denmark, Estonia, Finland, Iceland, Ireland, Latvia, Lithuania, Norway, Sweden and the UK. 144 pages PDF includes Resources (November 2012)
Digital Radio - Possibilities and Probabilities
Digital radio has many platforms. From broadcast platforms to internet radio and rapidly emerging smartphone platforms, listeners and broadcasters have choices galore and decisions to make. Some regulators have made up their minds, others not, some hedging their bets. This ftm Knowledge file details the possibilities for digital broadcasting and the probabilities for success. Includes Resources 149 pages PDF (August 2012)
Become an
ftm

Individual or Corporate Member and receive Knowledge files at no charge. JOIN HERE!

ftm Knowledge files are available to non-Members at €49 each.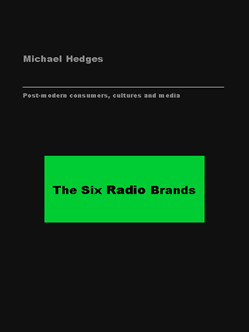 The Six Radio Brands is about the uniquely European development of radio brands. Competition among broadcasters - and certainly between the public and commercial sectors - gives radio in Europe a rich dynamic. As consumers become more media-literate and demand more attachment broadcasters find target markets illusive.
Regulators, advertisers and broadcasters take turns trying to influence radio brands. Culture and technology makes an impact. More and more, the greatest influence comes from consumers.
The Six Radio Brands describes advantages and pit-falls of brand strategies, with illustrations from current radio practice.
100 pages. 2004
Available at no charge to ftm Members, €49 for others. Email for more information