ftm

Radio Page - week ending March 17, 2017

French media measurement institute Médiamétrie is about to take that mighty leap into electronic measurement for radio. By September 2018, if all goes well, the interview-based Médiamétrie 126,000 radio survey will be augmented with a panel wearing or carrying a monitoring device, explained CEO Bruno Chetalille at a press conference this week. Radio committee members - broadcasters and media buyers - will meet very soon to hash-out details.

The push toward electronic measurement for radio began late last century, nearly 20 years ago, with Arbitron's PPM and the Swiss RadioWatch, both tested widely in several countries, some accepting, some opting to wait. Other devices followed in Italy and Russia. The push has always come from media buyers seeking more granular data and faster reporting. (See more about media measurement here)

Médiamétrie has been developing a proprietary device for several years to measure "watermarked" broadcast signals, similar to the PPM encoding but sufficiently different to satisfy patent attorneys. The RadioWatch, acquired by GfK and renamed MediaWatch, uses audio matching. Médiamétrie's device was tested in the greater Paris region and will also measure television.

In addition, Médiamétrie is moving forward measurement of streaming audio, podcasts and online catch-up radio with the possibility of integrating it all… somehow. Last year RTL Group national radio channel Fun Radio was delisted from two Médiamétrie audience estimates for distorting ratings, allegedly the morning show DJ asking listeners to give interviewers inaccurate information.

Electronic measurement for radio has been adopted, either exclusively or integrated with interviews, in the US, Canada, South Korea, Switzerland, Denmark and Norway. Broadcasters in the UK (RAJAR) and Germany (AG.MA) continue to resist citing methodological, compliance and cost issues.

There have been multiple reports of increases in ad spending for radio broadcasters. In the digital age this is tantamount to herds of romping unicorns or flocks of black swans.

In Hungary radio ad spending increased 5.6% in 2016 over the previous year to HUF 9.57 billion (about €30.9 million), according to the Hungarian Advertising Association ((Magyar Reklámszövetség - MRSZ), reported by news portal origo.hu (March 1). The share of ad spending for radio fell, however, to 5.9% from 6.3%. Total Hungarian ad spending was up 12% year on year to HUF 160.06 billion (about € 520 million) from HUF 142.7 billion (about €460 million). Internet advertising was up 21.9%.

"After a number of changes last year in the radio industry, 89% of the population continues to listen on a monthly basis," said Radio Operators Association (Radios Médiaszolgaltatok Egyesületé - RAME) president Arpad Turi. Last November national radio channel Class FM was struck from the airwaves for regulatory infractions. Regulator National Media and Communications Authority (NMHH) has moved slowly on a new licensee, first citing a lawsuit by the previous licensee, since suspended, then granting a ten month moratorium on a replacement. (See more about media in Hungary here)

UK radio support group Radiocentre also reported gains, noted by Radio Today (March 9). A "record breaking" GBP 645.8 million accrued to radio broadcasters in 2016, up 5.4% year on year. Online retailers, it seems, nearly doubled their contribution to radio broadcasters. Radio advertising in Italy for January was up 3.9% over the same month in 2016. Alas, a Core Media ad spending forecast, reported by businessworld.ie (February 24), projects radio advertising in Ireland to fall 3.5% in 2017.
---
Radio Page week ending March 10, 2017
radio in Germany, ag.ma, MA Radio 2017/I, public broadcasting, Antenne Bayern, Radio NRW, WDR, BR, SWR3, Star FM, MA 2017 Audio, streaming, digital radio, EinsLive, B5 aktuell
Radio Page week ending February 24, 2017
radio in Poland, Eurozet, Zet Chilli, Antyradio, digital radio, branded content, Teracom
Radio Page week ending February 17, 2017
radio in Switzerland, DETEC, radio licenses, digital transition, World Radio Day, UNESCO, EBU, AER
Radio Page week ending February 10, 2017
radio in the UK, radio audience, RAJAR, BBC Radio, public broadcasting, commercial radio, Radio 2, Radio 1, Radio 4, Heart, KISS, Capital, Magic, LBC, London radio market, radio advertising
Radio Page week ending February 3, 2017
radio in France, Paris radio, Médiamétrie, Radio France, France Inter, France Info, Europe 1, RMC, Skyrock, Generations, Tropiques FM
Radio Page week ending January 27, 2017
radio in Switzerland, Mediapulse, SFR, RTS, Rete, Energy Zurich, Rouge FM, Radio3i, radio in Denmark, radio audience, DR, Nova, Radio24syv
Recently added radio audience figures and resources
---
Also see
ftm

Knowledge
Europe's Radio - Southern Europe
Radio broadcasting in southern Europe ranges from highly developed to developing highly. Italian, Spanish and Portuguese radio is unique, creative and very popular. Radio in Croatia, Serbia and Greece has had ups and downs. The ftm Knowledge file includes Resources. 126 pages PDF (June 2015)
Europe's Radio - Western Europe
Opportunity meets tradition in Western Europe's radio broadcasting. Change has come fast and yet oh, so slowly. This ftm Knowledge file contains material and resources on public and private radio broadcasting in Austria, Belgium, France, Germany, Liechtenstein, Netherlands and Switzerland. 244 pages. Resources. PDF (September 2013)
Europe's Radio – Eastern Europe
Eastern Europe's radio writes new rules. In fact, most everything about radio in this region is new... and changes often. The ftm Knowledge file reports on Belarus, Bulgaria, Czech Republic, Hungary, Moldova, Poland, Romania, Russia, Slovakia and Ukraine. 159 pages PDF (April 2013)
Europe's Radio – Northern Europe
Northern Europe's radio has a very digital sound. And change is in the air. Economic challenges abound for both public and commercial broadcasters. The ftm Knowledge file reports on Denmark, Estonia, Finland, Iceland, Ireland, Latvia, Lithuania, Norway, Sweden and the UK. 144 pages PDF includes Resources (November 2012)
Digital Radio - Possibilities and Probabilities
Digital radio has many platforms. From broadcast platforms to internet radio and rapidly emerging smartphone platforms, listeners and broadcasters have choices galore and decisions to make. Some regulators have made up their minds, others not, some hedging their bets. This ftm Knowledge file details the possibilities for digital broadcasting and the probabilities for success. Includes Resources 149 pages PDF (August 2012)
Become an
ftm

Individual or Corporate Member and receive Knowledge files at no charge. JOIN HERE!

ftm Knowledge files are available to non-Members at €49 each.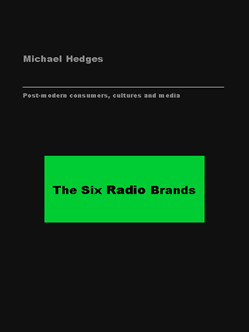 The Six Radio Brands is about the uniquely European development of radio brands. Competition among broadcasters - and certainly between the public and commercial sectors - gives radio in Europe a rich dynamic. As consumers become more media-literate and demand more attachment broadcasters find target markets illusive.
Regulators, advertisers and broadcasters take turns trying to influence radio brands. Culture and technology makes an impact. More and more, the greatest influence comes from consumers.
The Six Radio Brands describes advantages and pit-falls of brand strategies, with illustrations from current radio practice.
100 pages. 2004
Available at no charge to ftm Members, €49 for others. Email for more information