ftm

Radio Page - week ending October 27, 2017

Lifestyles and demographics have long challenged media designers. The digital age has brought this into plain view, if not necessarily plain sight. Adopting all this blinding change doesn't seem like change at all to some, just a moment with Instagram. Resistance is futile though fist-shaking certainly feels good.
The knife attack this week on Russian news-talk radio channel Ekho Moskvy show host, reporter and deputy editor Tatyana Felgenhauer was dreadful and quickly condemned by media watchers worldwide. She was struck in the neck Monday morning by an assailant who gained entry to the Ekho Moskvy editorial offices. "There are no new problems," said Sklifosovsky Emergency Hospital director Sergei Petrykov to reasonably reliable news agency RBC (October 25). "She will surely speak again." She underwent surgery and was, for a period, in an induced coma.
Ekho Moskvy is regarded as a critical voice within Russian media, broadcasting in major Russian cities and beyond since 1990. The station is outside the State broadcasting systems, principally owned by Gazprom Media, a subsidiary of Gazprombank, a subsidiary of Russian energy giant Gazprom. Station chief editor Alexi Venediktov, a minority shareholder with other employees, has deftly avoided official controls while maintaining a level of critical reporting. (See more about media in Russia here)
The station has its detractors, usually Russian nationalists. Two weeks ago State TV channel Rossiya 24 broadcast two special reports about Ekho Moskvy, saying the station is "working for the West," reported independent news portal Meduza (October 24). Ms Felgenhauer was both named and pictured. A participant on one of the reports offered that Ekho Moskvy is an "enemy" that could provoke people to "take the knife." It is an elementary propaganda strategy.
In September Ekho Moskvy talk-show host and Novaya Gazeta columnist Yulia Latynina left the country for an undisclosed location after a series of attacks through the summer. "I'm not revealing where I am because I don't want to poke the bear," she wrote in Moscow Times (September 22). "But I'm sure that I'm safe. Today there is the internet and my work can be done from a distance."
Ms Felgenhauer's assailant was promptly arrested, identified as a dual Russian-Israeli citizen. A variety of conspiracy theories have circulated; this is Russia. Investigators said he had been "hearing voices."
---
Radio Page week ending October 20, 2017
radio in Turkey, radio audience, Nielsen/URYAD, Kral FM, TRT
Radio Page week ending October 13, 2017
radio in Italy, Radio Italia, Gruppo Espresso, Mediaset, Radio Subasio, radio in Sweden, radio advertising, digital advertising
Radio Page week ending October 6, 2017
streaming audio, podcasts, Financial Times, Amazon Polly, radio in Greece, Alter Ego Media, Vima FM, Lambrakis Press Group
Radio Page week ending September 29, 2017
radio in France, Mediametrie, radio audience, RTL, France Inter, RMC, NRJ, Skyrock, radio in Belgium, radio licenses, local radio, SBS Radio, Hit FM, VBRO, Stadsradio Vlaanderen, TOPradio
Radio Page week ending September 22, 2017
radio in Norway, digital transition, DAB, Kantar TNS, radio in Germany, radio in Berlin, KCRW, NPR, mabb, AFN
Radio Page week ending September 15, 2017
streaming audio, workplace listening, music streaming, Spotify
Recently added radio audience figures and resources
---
Also see
ftm

Knowledge
Europe's Radio - Southern Europe
Radio broadcasting in southern Europe ranges from highly developed to developing highly. Italian, Spanish and Portuguese radio is unique, creative and very popular. Radio in Croatia, Serbia and Greece has had ups and downs. The ftm Knowledge file includes Resources. 126 pages PDF (June 2015)
Europe's Radio - Western Europe
Opportunity meets tradition in Western Europe's radio broadcasting. Change has come fast and yet oh, so slowly. This ftm Knowledge file contains material and resources on public and private radio broadcasting in Austria, Belgium, France, Germany, Liechtenstein, Netherlands and Switzerland. 244 pages. Resources. PDF (September 2013)
Europe's Radio – Eastern Europe
Eastern Europe's radio writes new rules. In fact, most everything about radio in this region is new... and changes often. The ftm Knowledge file reports on Belarus, Bulgaria, Czech Republic, Hungary, Moldova, Poland, Romania, Russia, Slovakia and Ukraine. 159 pages PDF (April 2013)
Europe's Radio – Northern Europe
Northern Europe's radio has a very digital sound. And change is in the air. Economic challenges abound for both public and commercial broadcasters. The ftm Knowledge file reports on Denmark, Estonia, Finland, Iceland, Ireland, Latvia, Lithuania, Norway, Sweden and the UK. 144 pages PDF includes Resources (November 2012)
Digital Radio - Possibilities and Probabilities
Digital radio has many platforms. From broadcast platforms to internet radio and rapidly emerging smartphone platforms, listeners and broadcasters have choices galore and decisions to make. Some regulators have made up their minds, others not, some hedging their bets. This ftm Knowledge file details the possibilities for digital broadcasting and the probabilities for success. Includes Resources 149 pages PDF (August 2012)
Become an
ftm

Individual or Corporate Member and receive Knowledge files at no charge. JOIN HERE!

ftm Knowledge files are available to non-Members at €49 each.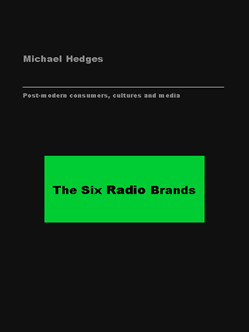 The Six Radio Brands is about the uniquely European development of radio brands. Competition among broadcasters - and certainly between the public and commercial sectors - gives radio in Europe a rich dynamic. As consumers become more media-literate and demand more attachment broadcasters find target markets illusive.
Regulators, advertisers and broadcasters take turns trying to influence radio brands. Culture and technology makes an impact. More and more, the greatest influence comes from consumers.
The Six Radio Brands describes advantages and pit-falls of brand strategies, with illustrations from current radio practice.
100 pages. 2004
Available at no charge to ftm Members, €49 for others. Email for more information