ftm

Radio Page - week ending February 9, 2018

Big networks, State and private, dominated the most recent Hungarian radio audience estimates. For the October to December 2017 period 71% of the national population 15 years and older tuned-in to radio daily and 68% of the Budapest population, according to results from the Kantar Hoffmann (formerly TNS Hoffmann) and Mediameter, reported by news portal 24.hu (January 23).

State broadcaster Petofi Radio, targeting younger listeners with Hungarian music, placed 1st in national daily reach. Same period year on year comparisons are not available as survey composition is rarely consistent. Privately-owned Radio 1 network placed second. General interest State channel Kossuth Radio was 3rd, followed by Music FM and Slager FM.

Radio 1, owned by notable Hungarian media owner Andy Vajna, has aggressively acquired local and regional stations and affiliates in recent years. Advertising company Hold Reklam, recently granted renewal of its local radio licenses in western Hungary, renewed its re-broadcasting agreement with Radio 1. Music FM is a locally owned hit/dance music channel. Contemporary music Slager FM is the successor to the bankrupt national channel Class FM. Changes to media laws in 2016 ended privately owned national radio channels, FM frequencies distributed to several owners. Financial distress has caused others to exit. (See more about media in Hungary here)

Market turmoil has also extended to advertising and measurement. At the end of 2016 Hungarian State broadcaster MTVA exited the radio measurement contract with TNS Hoffmann and Mediameter that had provided audience estimates since 2013, citing methodology issues (i.e. low ratings for their radio channels). Privately-owned broadcasters continued with the service. A competing "digital diary" measurement service from Inspira
Media Research appeared. Audience estimates were different.

What appeared in 2016 was a "digital diary" measurement from Inspira Media Research, a full service market research company, running in parallel to the TNS Hoffmann Mediameter service. The government, through media regulator NMHH (Nemzeti Media es Hirkézlesi Hatosag - National Media and Communications Authority), stepped in last year to solve three problems: competing measurement services, standardizing methodology and the cost of radio measurement, particularly for local and regional broadcasters. The NMHH accepted the bid from TNS Hoffmann Mediameter late last year for a measurement service provided free to all, with the caveat that limits public release of data.

At the first of this year, predictably, privately-owned Budapest radio broadcasters cancelled agreements with Inspira Media Research. Thereafter, Inspira ceased offering radio measurement in the Hungarian capital. The company is continuing with local and regional measurement, mostly through existing agreements with Radio Sales House (RSH) and local station network operator Radio 1. RSH, representing about 60 radio stations, and Radio 1, with about 30 affiliates, were instrumental in enticing Inspira to enter radio measurement.

There are few proven rules to winning ratings battles other than being on is far better than being off. Sometimes new brands attract fans. Most of the time, well-known brands fix better into daily routines. Since no broadcaster really knows one day to the next what audiences will do with their media time the spaghetti rule applies. Itís easier than watching the pot.
---
Radio Page week ending February 2, 2018
radio in France, public broadcasting, Radio France, Mathieu Gallet, CSA, radio in Austria, radio audience, GfK Radio Test, ORF, FM4, radio in Italy, RMC Sports Network, Alberto Hazan, Radio Monte Carlo, Radio Sportiva
Radio Page week ending January 26, 2018
radio in France, Paris radio, Mediametrie, RTL, Europe 1, Skyrock, FIP, radio in Switzerland, Mediapulse, radio audience, SFR, RSI, RTS, Energy Zurich, One FM, Radio 3i, radio in Greece, Left Media, Sto Kokkino
Radio Page week ending January 19, 2018
radio in France, Mediametrie, radio audience, RTL, France Inter, Europe 1, Skyrock, Radio France, public broadcasting, Mathieu Gallet, radio in Germany, Radio NRW, WDR, radio in Denmark, DR, podcasts, BR24, Fakecast
Radio Page week ending January 12, 2018
radio in Portugal, Bareme Radio, online radio, radio in Norway, digital transition, digital radio, DAB, NRK
Recently added radio audience figures and resources
---
Also see
ftm

Knowledge
Europe's Radio - Southern Europe
Radio broadcasting in southern Europe ranges from highly developed to developing highly. Italian, Spanish and Portuguese radio is unique, creative and very popular. Radio in Croatia, Serbia and Greece has had ups and downs. The ftm Knowledge file includes Resources. 126 pages PDF (June 2015)
Europe's Radio - Western Europe
Opportunity meets tradition in Western Europe's radio broadcasting. Change has come fast and yet oh, so slowly. This ftm Knowledge file contains material and resources on public and private radio broadcasting in Austria, Belgium, France, Germany, Liechtenstein, Netherlands and Switzerland. 244 pages. Resources. PDF (September 2013)
Europe's Radio – Eastern Europe
Eastern Europe's radio writes new rules. In fact, most everything about radio in this region is new... and changes often. The ftm Knowledge file reports on Belarus, Bulgaria, Czech Republic, Hungary, Moldova, Poland, Romania, Russia, Slovakia and Ukraine. 159 pages PDF (April 2013)
Europe's Radio – Northern Europe
Northern Europe's radio has a very digital sound. And change is in the air. Economic challenges abound for both public and commercial broadcasters. The ftm Knowledge file reports on Denmark, Estonia, Finland, Iceland, Ireland, Latvia, Lithuania, Norway, Sweden and the UK. 144 pages PDF includes Resources (November 2012)
Digital Radio - Possibilities and Probabilities
Digital radio has many platforms. From broadcast platforms to internet radio and rapidly emerging smartphone platforms, listeners and broadcasters have choices galore and decisions to make. Some regulators have made up their minds, others not, some hedging their bets. This ftm Knowledge file details the possibilities for digital broadcasting and the probabilities for success. Includes Resources 149 pages PDF (August 2012)
Become an
ftm

Individual or Corporate Member and receive Knowledge files at no charge. JOIN HERE!

ftm Knowledge files are available to Members at no additional charge.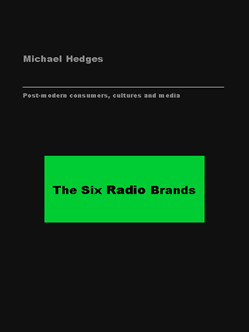 The Six Radio Brands is about the uniquely European development of radio brands. Competition among broadcasters - and certainly between the public and commercial sectors - gives radio in Europe a rich dynamic. As consumers become more media-literate and demand more attachment broadcasters find target markets illusive.
Regulators, advertisers and broadcasters take turns trying to influence radio brands. Culture and technology makes an impact. More and more, the greatest influence comes from consumers.
The Six Radio Brands describes advantages and pit-falls of brand strategies, with illustrations from current radio practice.
100 pages. 2004
Available at no charge to ftm Members, €49 for others. Email for more information