ftm

Radio Page - week ending April 14, 2017

Usually radio broadcasters acquiring expanded coverage move quickly to light up those new transmitters. Bigger distribution, logically, means more listeners, and then, greater revenue opportunities. Regulators take a dim view of hesitation.

Czech regulator RRTV has "requested an explanation" from the operator of
Radia Dalnice for leaving several dozen FM frequencies silent, reported media portal radiotv.cz (April 13). Radia Dalnice (tr: Radio Highway) obtained 36 FM frequencies in December 2014 but uses just one. Its owner, Radim Parizka, has been in and out of Czech and Slovak broadcasting for several years and best known as frontman for heavy metal bank Citron. (See more about media in the Czech Republic here)

Radia Dalnice is licensed to serve listeners using major motorways with traffic information. As such, the FM transmitters licensed are very low power. It has received authorization to use digital satellite systems in the Czech Republic and Slovakia.

Radio broadcasting services specifically for motorway travelers is far from unique. Italian public broadcaster RAI has operated Isoradio for nearly 30 years with traffic information, weather reports and, at night, pop music. In Russia and neighboring countries there's the highly rated Avtoradio, generally targeting commuters with news, traffic information, up-beat pop music and DJs, tips on cars and promotions.
---
Radio Page week ending April 7, 2017
radio in the Czech Republic, Kiss, RRTV, Radio United Broadcasting, radio licenses, millennials
Radio Page week ending March 31, 2017
radio in Sweden, radio licenses, Bauer Media, radio advertising
Radio Page week ending March 24, 2017
radio in Norway, digital radio, TNS Kantar
Radio Page week ending March 17, 2017
radio in France, Mediametrie, electronic measurement, radio advertising, radio in Hungary, radio in the UK, radio in Italy, radio in Ireland
Radio Page week ending March 10, 2017
radio in Germany, ag.ma, MA Radio 2017/I, public broadcasting, Antenne Bayern, Radio NRW, WDR, BR, SWR3, Star FM, MA 2017 Audio, streaming, digital radio, EinsLive, B5 aktuell
Recently added radio audience figures and resources
---
Also see
ftm

Knowledge
Europe's Radio - Southern Europe
Radio broadcasting in southern Europe ranges from highly developed to developing highly. Italian, Spanish and Portuguese radio is unique, creative and very popular. Radio in Croatia, Serbia and Greece has had ups and downs. The ftm Knowledge file includes Resources. 126 pages PDF (June 2015)
Europe's Radio - Western Europe
Opportunity meets tradition in Western Europe's radio broadcasting. Change has come fast and yet oh, so slowly. This ftm Knowledge file contains material and resources on public and private radio broadcasting in Austria, Belgium, France, Germany, Liechtenstein, Netherlands and Switzerland. 244 pages. Resources. PDF (September 2013)
Europe's Radio – Eastern Europe
Eastern Europe's radio writes new rules. In fact, most everything about radio in this region is new... and changes often. The ftm Knowledge file reports on Belarus, Bulgaria, Czech Republic, Hungary, Moldova, Poland, Romania, Russia, Slovakia and Ukraine. 159 pages PDF (April 2013)
Europe's Radio – Northern Europe
Northern Europe's radio has a very digital sound. And change is in the air. Economic challenges abound for both public and commercial broadcasters. The ftm Knowledge file reports on Denmark, Estonia, Finland, Iceland, Ireland, Latvia, Lithuania, Norway, Sweden and the UK. 144 pages PDF includes Resources (November 2012)
Digital Radio - Possibilities and Probabilities
Digital radio has many platforms. From broadcast platforms to internet radio and rapidly emerging smartphone platforms, listeners and broadcasters have choices galore and decisions to make. Some regulators have made up their minds, others not, some hedging their bets. This ftm Knowledge file details the possibilities for digital broadcasting and the probabilities for success. Includes Resources 149 pages PDF (August 2012)
Become an
ftm

Individual or Corporate Member and receive Knowledge files at no charge. JOIN HERE!

ftm Knowledge files are available to non-Members at €49 each.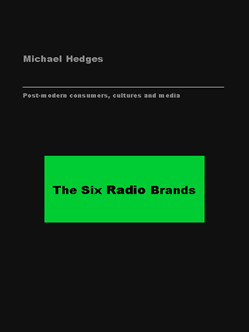 The Six Radio Brands is about the uniquely European development of radio brands. Competition among broadcasters - and certainly between the public and commercial sectors - gives radio in Europe a rich dynamic. As consumers become more media-literate and demand more attachment broadcasters find target markets illusive.
Regulators, advertisers and broadcasters take turns trying to influence radio brands. Culture and technology makes an impact. More and more, the greatest influence comes from consumers.
The Six Radio Brands describes advantages and pit-falls of brand strategies, with illustrations from current radio practice.
100 pages. 2004
Available at no charge to ftm Members, €49 for others. Email for more information