ftm

Radio Page - week ending April 28, 2017

It's never a complete surprise that the Médiamétrie radio audience estimates for Il-de-France (IDF - greater Paris) differ somewhat from the French national survey. And, so, it is. The IDF results are normally released a week later.

National news and talk channels continue to dominate the IDF radio survey, conducted January through March. Public general interest channel France Inter held the top spot, seriously gaining audience share to 14.0% from 11.4% year on year. RTL ranks second, down slightly to 13.0% from 13.3%. The major two national switched ranking in the IDF survey last September-October.

Closely followed by French media watchers, Europe 1 hang onto 3rd place, dropping to 7.2% audience share from 7.8%. Europe 1, owned by Lagardère Active, did not show well in the national audience estimates forcing company chairman Arnaud Lagardère to promise big changes. The mostly-talk entertainment channel has had a bumpy trajectory for several years.

After the national Médiamétrie survey was released M. Lagardère announced he would be taking personal control over Europe 1. A week later, as the IDF became known, various sources reported Frédéric Schlesinger, Radio France program operations director, has been hired. Others suggest France Inter morning host Patrick Cohen could follow. "Lagardère has the financial means to make it happen," said an internal Radio France source, quoted by Ozap (April 27).

Radio France channels faired well in the IDF audience estimates, on aggregate rising to 26.4% audience share from 25.4% one year on. In addition to France Inter, all-news France Info and France Culture made sizable gains while France Musique fell. Youth channel Mouv' even crossed the threshold to be listed again after several years. (See France IDF radio audience trend chart here)

Radio Classique made strong gains in the IDF survey, to 3.7% audience share and 6th place from 3.0% audience share and 10th year on year. Skyrock placed 7th, down slightly, as NRJ continued a downward spiral, falling to 3.3% audience share from 4.9%.

Several local Paris stations made a dent. Radio Latina rose to 2.2% audience share. Radio Nova, Tropiques FM, Voltage, TSF Jazz and Radio FG were up. Africa No1 also reappeared.
---
Radio Page week ending April 21, 2017
radio in France, radio audience, Mediametrie, RTL, Radio France, news radio, France Inter, Europe 1, Lagardere Active, NRJ, RFM, RTL2, Skyrock
Radio Page week ending April 14, 2017
radio in the Czech Republic, Radia Dalnice, RRTV, FM licenses, highway radio, Isoradio, Avtoradio
Radio Page week ending April 7, 2017
radio in the Czech Republic, Kiss, RRTV, Radio United Broadcasting, radio licenses, millennials
Radio Page week ending March 31, 2017
radio in Sweden, radio licenses, Bauer Media, radio advertising
Radio Page week ending March 24, 2017
radio in Norway, digital radio, TNS Kantar
Radio Page week ending March 17, 2017
radio in France, Mediametrie, electronic measurement, radio advertising, radio in Hungary, radio in the UK, radio in Italy, radio in Ireland
Radio Page week ending March 10, 2017
radio in Germany, ag.ma, MA Radio 2017/I, public broadcasting, Antenne Bayern, Radio NRW, WDR, BR, SWR3, Star FM, MA 2017 Audio, streaming, digital radio, EinsLive, B5 aktuell
Recently added radio audience figures and resources
---
Also see
ftm

Knowledge
Europe's Radio - Southern Europe
Radio broadcasting in southern Europe ranges from highly developed to developing highly. Italian, Spanish and Portuguese radio is unique, creative and very popular. Radio in Croatia, Serbia and Greece has had ups and downs. The ftm Knowledge file includes Resources. 126 pages PDF (June 2015)
Europe's Radio - Western Europe
Opportunity meets tradition in Western Europe's radio broadcasting. Change has come fast and yet oh, so slowly. This ftm Knowledge file contains material and resources on public and private radio broadcasting in Austria, Belgium, France, Germany, Liechtenstein, Netherlands and Switzerland. 244 pages. Resources. PDF (September 2013)
Europe's Radio – Eastern Europe
Eastern Europe's radio writes new rules. In fact, most everything about radio in this region is new... and changes often. The ftm Knowledge file reports on Belarus, Bulgaria, Czech Republic, Hungary, Moldova, Poland, Romania, Russia, Slovakia and Ukraine. 159 pages PDF (April 2013)
Europe's Radio – Northern Europe
Northern Europe's radio has a very digital sound. And change is in the air. Economic challenges abound for both public and commercial broadcasters. The ftm Knowledge file reports on Denmark, Estonia, Finland, Iceland, Ireland, Latvia, Lithuania, Norway, Sweden and the UK. 144 pages PDF includes Resources (November 2012)
Digital Radio - Possibilities and Probabilities
Digital radio has many platforms. From broadcast platforms to internet radio and rapidly emerging smartphone platforms, listeners and broadcasters have choices galore and decisions to make. Some regulators have made up their minds, others not, some hedging their bets. This ftm Knowledge file details the possibilities for digital broadcasting and the probabilities for success. Includes Resources 149 pages PDF (August 2012)
Become an
ftm

Individual or Corporate Member and receive Knowledge files at no charge. JOIN HERE!

ftm Knowledge files are available to non-Members at €49 each.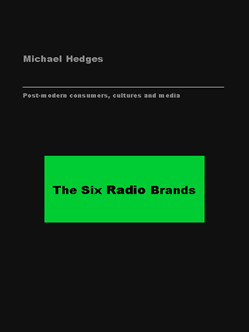 The Six Radio Brands is about the uniquely European development of radio brands. Competition among broadcasters - and certainly between the public and commercial sectors - gives radio in Europe a rich dynamic. As consumers become more media-literate and demand more attachment broadcasters find target markets illusive.
Regulators, advertisers and broadcasters take turns trying to influence radio brands. Culture and technology makes an impact. More and more, the greatest influence comes from consumers.
The Six Radio Brands describes advantages and pit-falls of brand strategies, with illustrations from current radio practice.
100 pages. 2004
Available at no charge to ftm Members, €49 for others. Email for more information