ftm

Radio Page - week ending July 28, 2017

The Médiamétrie greater Paris (Il-de-France - IDF) radio audience estimates always present an interesting sub-set of French radio listening. The recently released IDF April-June results show, again, how the largest French metropolitan area differs from the rest of the country, except when it doesn't. And, too, the smaller sample size can exaggerate market share movement.

As usual, national general interest channel RTL kept its towering perch atop the rankings, no change year on year at 14.6% audience share. Public news and talk channel France Inter, number 2, dropped to 11.8% audience share from 13.2%. Moving into 3rd place is news, talk and sports channel RMC with a powerful leap to 8.9% audience share from 5.9%. It was followed by the still sliding Europe 1, 7.0% audience share down from 8.3%. Holding onto 5th place is all-news public channel France Info with 6,2% audience share up from 5.0%. The top five are all national channels offering some variation on news and talk. There were presidential and parliamentary elections in France during the period.

Urban music formatted Skyrock bumped up to 6th place, 3.6% audience from 3.3% one year on. Legacy hit music channel NRJ followed, dramatically dropping to 3.2% audience share (lowest in more than five years) from 3.9%. For the remaining national radio channels, the April-June survey period was either good - Cherie FM, France Culture, RFI - or not - Radio Classique. (See France greater Paris audience trend chart here) Listening, generally, increased - 74.5% reach share from 74.1% - to the benefit of public Radio France channels, private commercial channels on aggregate falling.

On the local scene, Radio Latina moved up to 2.6% audience share and 11th place (tied with France Culture) from 1.9% year on year. Public station FIP, originally known as France Inter Paris, dropped to 1.8% audience share from 3.0%. Tropiques FM was also lower. In the last week of the survey period, Ado FM was rebranded as Swigg, an urban hip-hop RnB music station targeting 15 to 24 year olds. Swigg is part of Groupe 1981, owner of Radio Latina, Voltage and Vibration.

Every potential suitor knows that romance starts with asking. Literary tradition is filled with flowery letters sent expressing deep regard and many benefits. And, too, unrequited love is painful. Valentine's Day was named after a martyred first century Roman priest.

Such an expression of desire was sent this week by Italian radio broadcaster Radio Dimensione Suono (RDS) chairman Eduardo Montefusco to Gruppo 24 Ore chairman Giorgio Fossa, reported online media news portal primaonline.it (July 24). He was asking about starting a relationship - "a strategic alliance" - with a minority stake in Radio 24. "The strong value of this project may also represent a unique opportunity for Gruppo 24 Ore in terms of value creation and strategic positioning."

Within hours, alas, Gruppo 24 Ore responded negatively, through its press office. "With reference to the press release issued by RDS about its interest in an industrial and strategic alliance with Radio 24, Gruppo 24 Ore has no intention to sell all or part of the asset, as repeatedly stated by the company." Rejection. Drama.

Radio 24 is a national news/talk channel, launched in 1999. Gruppo 24 Ore is primarily publisher of business/financial daily Il Sole 24 Ore. The company is publicly traded, primarily owned by the Italian employers federation Confindustria. (See more about media in Italy here)

Gruppo 24 Ore has been mired in legal and financial difficulties for several months. Last November the company ordered significant cost cuts, which were followed by a series of employee strikes at the newspaper and other subsidiaries. In March group managing director and Il Sole 24 Ore editorial director Roberto Napoletano took a leave of absence under a cloud. In June the company sold-off its training and events subsidiary, rumors swirling that Radio 24 could be next. Earlier this month Italian financial police Guardia di Finanza (GdF) paid a visit.

Meanwhile financial publisher Blue Financial Communications is bringing business title Forbes to Italy, with appropriate website. The magazine will be on newsstands in September. Then, too, reports Les Echos (July 24), Vivendi is forming a joint venture of French pay-TV company Canal+ and Telecom Italia, both of which it controls, to launch an Italian version of Canal+.
---
Radio Page week ending July 21, 2017
radio in France, Mediametrie, RTL, France Inter, Europe 1, RMC, France Info, Fun Radio, radio in Switzerland, radio audience, Mediapulse, Radio Fiume Ticino, Radio3i
Radio Page week ending July 14, 2017
radio in Denmark, radio in Norway, digital radio, digital transition, DAB, FM shut-off
Radio Page week ending July 7, 2017
radio in Spain, EGM, AIMC, national radio audience, Cadena SER, Cadena Cope, Los 40 Principales, Cadena 100, Radio Vox
Radio Page week ending June 30, 2017
radio in the UK, singles charts, Official Charts Company, radio advertising, Cannes Lions, Radio Lions
Radio Page week ending June 23, 2017
radio audience, radio in Denmark, DR, Bauer Media, Radio in Finland, YLE, Nelonen, MTG, radio in Iceland, RUV, 365 Media, radio in Norway, NRK, radio in Sweden, SR, Nordicom
Radio Page week ending June 16, 2017
radio in Poland, radio audience, Radio Track, RMF FM, Radio ZET, Polskie Radio, Radio Jedynka, Radio Trojka, TOK FM, Antyradio, radio in the Netherlands, public broadcasting, NOP Radio 1, news programs, Argos, Reporter Radio
Radio Page week ending June 9, 2017
radio in the UK, music charts, protest songs, elections and media
Radio Page week ending June 2, 2017
radio in the UK, music charts, protest songs, elections and media
Recently added radio audience figures and resources
---
Also see
ftm

Knowledge
Europe's Radio - Southern Europe
Radio broadcasting in southern Europe ranges from highly developed to developing highly. Italian, Spanish and Portuguese radio is unique, creative and very popular. Radio in Croatia, Serbia and Greece has had ups and downs. The ftm Knowledge file includes Resources. 126 pages PDF (June 2015)
Europe's Radio - Western Europe
Opportunity meets tradition in Western Europe's radio broadcasting. Change has come fast and yet oh, so slowly. This ftm Knowledge file contains material and resources on public and private radio broadcasting in Austria, Belgium, France, Germany, Liechtenstein, Netherlands and Switzerland. 244 pages. Resources. PDF (September 2013)
Europe's Radio – Eastern Europe
Eastern Europe's radio writes new rules. In fact, most everything about radio in this region is new... and changes often. The ftm Knowledge file reports on Belarus, Bulgaria, Czech Republic, Hungary, Moldova, Poland, Romania, Russia, Slovakia and Ukraine. 159 pages PDF (April 2013)
Europe's Radio – Northern Europe
Northern Europe's radio has a very digital sound. And change is in the air. Economic challenges abound for both public and commercial broadcasters. The ftm Knowledge file reports on Denmark, Estonia, Finland, Iceland, Ireland, Latvia, Lithuania, Norway, Sweden and the UK. 144 pages PDF includes Resources (November 2012)
Digital Radio - Possibilities and Probabilities
Digital radio has many platforms. From broadcast platforms to internet radio and rapidly emerging smartphone platforms, listeners and broadcasters have choices galore and decisions to make. Some regulators have made up their minds, others not, some hedging their bets. This ftm Knowledge file details the possibilities for digital broadcasting and the probabilities for success. Includes Resources 149 pages PDF (August 2012)
Become an
ftm

Individual or Corporate Member and receive Knowledge files at no charge. JOIN HERE!

ftm Knowledge files are available to non-Members at €49 each.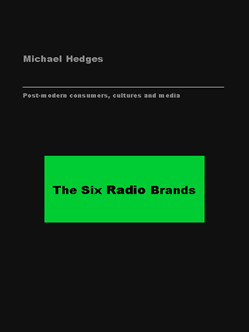 The Six Radio Brands is about the uniquely European development of radio brands. Competition among broadcasters - and certainly between the public and commercial sectors - gives radio in Europe a rich dynamic. As consumers become more media-literate and demand more attachment broadcasters find target markets illusive.
Regulators, advertisers and broadcasters take turns trying to influence radio brands. Culture and technology makes an impact. More and more, the greatest influence comes from consumers.
The Six Radio Brands describes advantages and pit-falls of brand strategies, with illustrations from current radio practice.
100 pages. 2004
Available at no charge to ftm Members, €49 for others. Email for more information