Breaking News! The Plan Has Changed
It is always best, we have learned, to take with a grain of salt any "breaking news" headline. OK, a barrel of salt. Maybe a boat-load of salt. We must temper the excitement no matter how, well, exciting.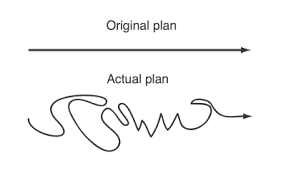 Early in February Danish telecom TDC and Swedish broadcaster Modern Times Group (MTG) announced a purchase and sale agreement for MTG's Nordic group of TV and radio stations as well as the company's television production subsidiary. The deal would have MTG exiting broadcasting while taking a substantial minority stake in TDC for a tidy €2 billion. Ten days later the deal was dead in the water.
Officially, the TDC board of directors "informed" the company's management it could no longer recommend the merger, reported mediawatch.dk (February 12). A group of institutional investors, led by Australian infrastructure investor Macquarie, made an offer in late January for all TDC shares, initially rejected. Then, something changed their minds; maybe a sweeter offer or, suggested the Financial Times (February 12), a bid from Danish telecom Telia. A day later the TDC board accepted the Macquarie-led offer for €5.4 billion.
"Yes, of course, we are disappointed," said MTG Nordic chief executive Anders Jensen, quoted by kampanje.no (February 13). "Monday morning we were told by TDC's board that they had recommended a different bid. Until then, we did not know anything."
The Walt Disney Company's US$52.4 billion bid to acquire significant studio and broadcasting assets of 21st Century Fox, announced last December, continues on an icy course. Part of that deal includes pay-TV operator Sky plc, which operates in the UK, Ireland, Germany, Austria and Italy. Separately, 21st Century Fox bid months ago to take-over the 61% of Sky plc shares not already held but the UK Competition and Markets Authority (CMA) has suggested a few conditions before granting approval, principally independence for or spin-off of Sky News.
So this week, in comes big US cable giant Comcast, which owns NBCUniversal, with a new and improved bid - "in the low US$60 billions," said the Wall Street Journal (February 11), for the same 21st Century Fox assets, maybe. Sky plc was of particular interest in an earlier Comcast bid that exceeded the Disney bid. It was rejected. Sports rights figure significantly for all parties. Some analysts suggest Comcast might bid for Sky plc if conditions imposed by the CMA are unacceptable to 21st Century Fox. (See more about media mergers and acquisitions here)
Hearts and minds have certainly changed, over and over, in the two years since French communications investor Vivendi struck a deal take-over the pay-TV subsidiary of Italian media company Mediaset. While not a huge deal in monetary terms the aftermath has had notable significance, most coming from the drama. Vivendi backed out of the deal - or tried to - three months after it was announced because, reportedly, in due diligence their accountants and lawyers found oddities. That led, obviously, to lawsuits, investigations and various police raids.
Finding no favorable outcomes in any of that principals of both companies started delicate discussions to unwind, at least, the bad feelings. Through the last few months, an agreement has been reached, more or less, for a joint venture of Mediaset and Telecom Italia to finally acquire the pay-TV company. At last report, according to Reuters (January 18), a hearing has been delayed until July in Vivend's appeal of Italian communication regulator AGCOM's decision that it must reduce its stake in either Telecom Italia or Mediaset. That joint venture, according to Il Sole 24 Ore (January 19), is "taking a little more time than expected."
---
See also in
ftm

Hot Topics
---
---